Borehole Logging Specialists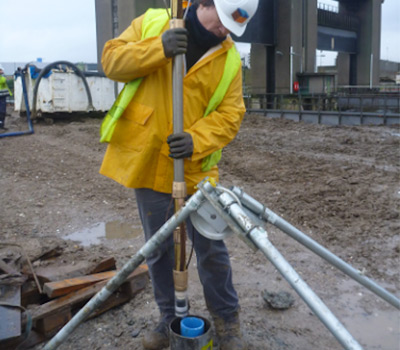 American Geophysics Inc. specializes in tasks like borehole logging. This is a service that's best handled by geophysical professionals, and it can provide the client with accurate information about geologic units and groundwater.
Borehole logging saves you time and money by providing detailed data that couldn't otherwise be easily obtained. We're the trusted local experts who can offer an accurate and detailed assessment based on our 20-plus years of industry experience.
We're GPR Specialists and we are OSHA Certified, and it all starts with the free quote we're able to offer our customers. Gain access to the information you need by letting us obtain it for you.
Using Borehole Logging to Your Advantage
A form of ground-penetrating radar, borehole logging can be accomplished by a variety of possible techniques. Some examples of these include:
Electromagnetic Induction
Video
Borehole Deviation
Natural Gamma
Acoustic Televiewing
And more
The data that's gathered is commonly used for identifying fluid flow, fracture patterns, and geologic structural properties. All of which is a time-saving and cost-effective approach to getting the data that you need for your project.
This is an effective and efficient way to obtain direct info concerning the ground structure that's below the surface. In other words, it gives you the ability to get a better idea of what's beneath the surface level before you get too far along with your project.
Safety first is a creed we stand by, and why we offer the services that we do. Contact us today and schedule the borehole logging service that your project requires.
American Geophysics

North Jersey
American Geophysics

New York City
American Geophysics

Philadelphia/South Jersey