Professional Video Pipe Inspection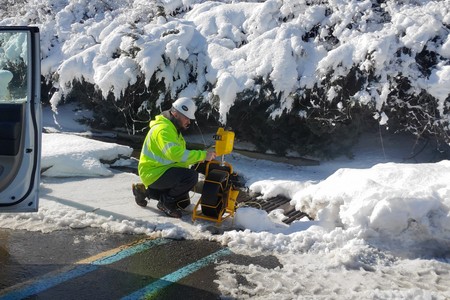 American Geophysics Inc. has earned an impeccable reputation as local geophysical experts. We want to be able to use techniques like video pipe inspection to help our clients.
Being able to gain visual access to an area that's below ground level can be vital for plenty of reasons, including maintaining your plumbing system and sewer line. How else can you determine the condition of your system without a service like a video pipe inspection?
The other alternative is to destroy your lawn and landscaping by digging up your pipes and sewer line. Save yourself the time, money, and effort by letting us provide you with imaging of your pipes with our video inspection process.
Putting Video Pipe Inspection to Work for You
Video pipe inspection is most commonly used when a property owner suspects a problem, such as a leak or pipe damage. If your system is acting differently, this is a service that you should consider that will help identify and locate an existing problem.
Some examples of what our video pipe inspection equipment can catch includes:
Root Intrusion
Grease Buildups
Clog Location and Severity
Spot Corrosion
Find Punctures
It's also a valuable tool because it can help detect areas of future concern. Being able to have visual access to points along your pipes that may become problematic is essential for prevention.
However, you may even request video access to your pipes following a professional cleaning to ensure that the work was carried out to your satisfaction. Or, if a plumber gives an assessment that is going to cost a significant amount of money, our work is an excellent resource for getting a second opinion.
It's not unheard of for less-than-scrupulous plumbers to use previously recorded images to make claims about existing issues on your property. It's better to be safe than sorry and avoid costly mistakes.
American Geophysics Inc. is dedicated to putting the needs of our customers first. Make the call to us today for professional video pipe inspection and feel confident that you're getting accurate and honest data.
Latest Ground Penetrating Radar (GPR) Projects
For this project at the Westchester Airport in New York, a video pipe inspection was performed. The Pearpoint P350 Flexitrax system is the tool American Geophysics used to crawl and video inspects the piping.
American Geophysics

North Jersey
American Geophysics

New York City
American Geophysics

Philadelphia/South Jersey