Ground Penetrating Radar (GPR) Pros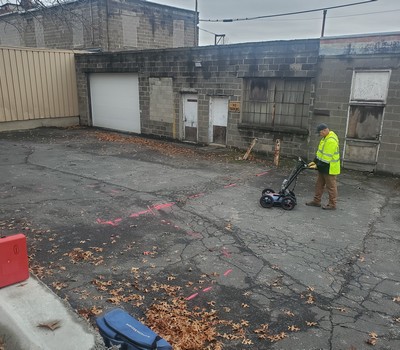 Ground Penetrating Radar (GPR) surveys have become the gold standard in subsurface investigation. American Geophysics Inc. incorporates (GPR) in all its services using only the latest industry-standard equipment, making us a leader in the geophysical industry.
Real-time processing and results can quickly identify areas of concern (AOCs), providing valuable insight when locating underground storage tanks (USTs), digging test pits, and formulating a sampling plan.
Putting GPR to Work for Your Project
We're honored to be a local leader for geophysical subcontractor services like ground-penetrating radar. It's considered the most effective technology for getting real-time visuals.
It's an ideal resource to use for construction, surveys, environmental studies, and other projects, like utility locating.
Some of the significant benefits of ground-penetrating radar include:
Safer and More Secure
Cost-Effective
More Efficient
Better Scan Production
Accuracy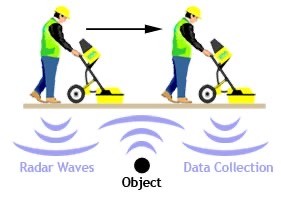 There are other alternatives that can be used, but why not get the best? Call American Geophysics Inc. to be your expert when you need geophysical services like ground-penetrating radar.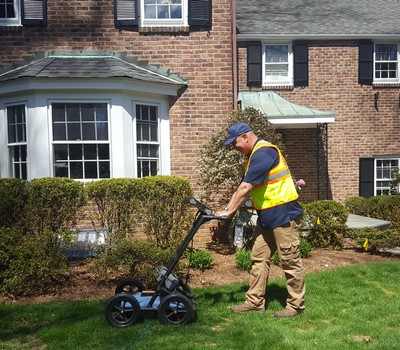 Latest Ground Penetrating Radar (GPR) Projects
For this project, a septic tank, and leach field needed to be investigated and oriented at a private marina, in Atlantic County, NJ. The equipment used for this project was the GPR 250 MHz, The RD8000 pipe and cable locator in conjunction with the Jameson Duct Rodder.
Projects that include non-conductive materials usually require a GPR survey in order to orient the components. For this specific project in Colts Neck, NJ the client needed the water lines coming off the well that feeds the equestrian ranch to be oriented, so we marked out the lines with blue flags.
This work was done for DOW/PFIZER complex in Pennsylvania. The goal was to redesign and install a new proposed nitrogen holding tank in place of the old one and its foundation.
Dan (the company's owner), did a site audit day (or a pop-in!) to check everyone's work across Philadelphia. Not sure how to best phrase this but maybe this can be labeled (OVERSIGHT) or (OVERSITE.) Get it?
This is a project we performed for an electric client at the PSE&G Substation in Thorofare, NJ. All the electrical conduits, and wiring systems that feed the substation from the solar field needed to be identified and located.
This project was performed in Tamaqua, PA. This was part of a Verizon site adjacent to the historic train depot. The technician needed to identify any subsurface utilities, anomalies, or data consistent with underground storage tanks (USTs).
American Geophysics

North Jersey
American Geophysics

New York City
American Geophysics

Philadelphia/South Jersey