Concrete Scanning Professionals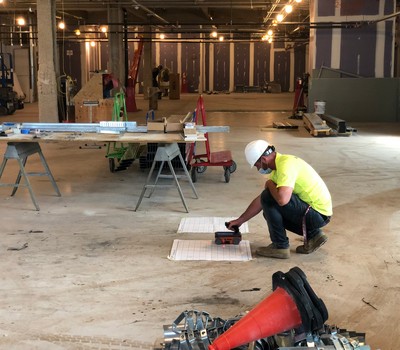 With over two decades of industry expertise as a leading geophysical company, American Geophysics Inc. is here for you. One of the essential services we offer our customers is concrete scanning.
The primary reason you need our experts to help with concrete scanning is safety. Your project shouldn't move forward until you have an accurate scan of what you could be dealing with under the concrete.
However, you can also feel good that this service will save you money and time, so it's worth the initial investment. Trust the company that has the customers' best interest in mind, especially when it comes to something as critical as working underground, especially under concrete.
Precision Matters When it Comes to Concrete Scanning
Scanning concrete using GPR has become an industry-standard practice before cutting or coring concrete. Experience with concrete scanning and GPR interpretation is the most important aspect of a successful concrete scan.
This preferred method provides an accurate, safe, and cost-effective means of locating:
Rebar
Post Tension Cables
Electrical conduit
Utilities
Void Spaces
Steel Beams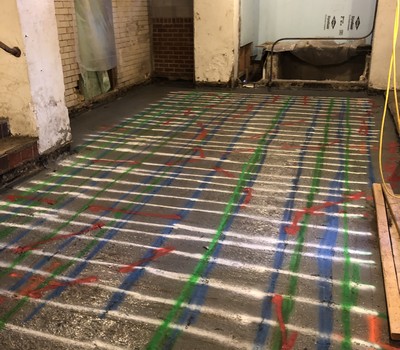 Engineers and insurance requirements have overwhelmingly embraced the use of GPR for concrete scanning. Our experienced personnel and industry-leading equipment will provide you with accurate results each time.
Contact our experts today for concrete scanning, and find out why we're the preferred geophysical company in NJ, PA, NY, and CT.
Latest Concrete Scanning Projects
At a laundromat in Cherry Hill, New Jersey, American Geophysics was able to use the concrete scanner to scan the slab on grade for any reinforcements and electrical conduits in order for the environmental team to collect their "sub-slab vapor samples". In addition to using the concrete scanner, we used RF equipment to confirm and identify any other potential electrical conduits or copper piping that would exist in or just beneath the slab on grade that would impact the locations to be sampled.
Over the winter, without knowing or approval, 2-3 feet of a mixed-fill was layered on top of the existing surface for the trucks and fleet to navigate the terrain of the facility. This caused the existing monitoring wells on-site to be buried and lost. To avoid having to redrill or reinstall new monitoring wells, our technicians were called in to try and locate the lost wells.
The engineering and construction design teams needed an inspection performed to overbuild and perform some renovations. The renovations included the design and installation of new drains, a new oil-water separator, as well as "tying into" existing sanitary lines. In order to do so, this required all the subsurface utilities to be accounted for with depths below the surface, to be able to pitch lines at the proper slope.
The engineering and construction design team needed an inspection performed to overbuild and perform some renovations at the Children's Hospital of Philadelphia. All "grouted cells" versus potential "voided cells" of the foundation wall and concrete masonry units (CMUs) needed to be identified for the engineering team.
The engineering and construction design team needed to overbuild on the concrete structures existing on-site. The team needed to know if there was any detected delamination; or any parallel or subparallel flaws from the surface such as the slabs, walls, columns, mat-foundation and beams.
American Geophysics was called in to assist the client in performing a geophysical concrete investigation of the finished office to core and run new electrical and IT/data/telecommunication lines to this private executive office and conference rooms. The client needed to have all detected reinforc
ements, structural engineering components as well as potential electrical conduits identified in addition to confirming the slab thickness.
The client asked us to perform a geophysical concrete investigation of the laboratory roof prior to adding HVAC systems and associated piping and components. For all these proposed coring and anchoring locations on the roof, the client wanted/needed the "post-tension cables", reinforcements, electrical conduits as well as the hollows of the (precast slab), all identified and marked out prior to performing the coring and anchoring.
American Geophysics stated by using both the Profoscope and concrete scanner/GPR. By doing this the field technician was able to determine the rebar size and spacing in both directions of the retention wall in question.
The client wanted to have his own IT and communications line fed to their private penthouse in New York City. In order to do so, a separate "riser" of lines needed to be fed from the basement, up approximately 50 floors.
Our client at a private residence in the Rittenhouse Section of Center City, Philadelphia needed to have "radiant heating coils" of non-conductive materials oriented as part of an overbuild. The project's goal was to expand the width of the staircase.
This project was performed in Manhattan, NYC as part of an over-build and investigation of current load capacity of a client-specified concrete deck. We had to perform the following tasks: sizing rebar, measuring rebar thickness, and utility or conduit locating.
This project was performed at an industrial site in New York City, NY. The equipment used here is the "SCREENING EAGLE PROCEQ GP 8000." The technicians are on-site to detect any "void spaces" in the above-ground holding tank for integrity purposes.
We performed this service at BRYN MAWR HOSPITAL in Bryn Mawr, PA. The technician on-site is used the GSSI concrete GPR scanner to locate rebar, reinforcements, structural components as well as any potential conduits, or wiring systems in the concrete structural slab.
This project was performed by our technicians at the WORLD TRADE CENTER in New York City, NY. In certain active/finished sections of the building, AG Inc. had to use tape and labeling systems to mark out all of the findings. We adapt to any situation to meet our clients' needs.
This project was done in Philadelphia for the Children's Hospital of Philadelphia (CHOP), Pennsylvania. 3D grid scans were performed, collected and recorded around various parts of the hospitals (both finished/in-use and under construction.)
Dan (the company's owner), did a site audit day (or a pop-in!) to check everyone's work across Philadelphia. Not sure how to best phrase this but maybe this can be labeled (OVERSIGHT) or (OVERSITE.) Get it?
This project was performed in Brooklyn, NY for a concrete testing firm. The project was to investigate and inspect new construction for proofing: rebar, and grouted cells of (CMUs)- concrete masonry units.
This project was performed at the American Dream (Mall) in East Rutherford, NJ. The technicians are doing a concrete investigation scanning for rebar, and other structural reinforcements in concrete slabs, columns, and beams.
This is a concrete investigation we performed at the Wells Fargo Center in Philadelphia, PA. We used the GSSI mini XT 2.7GHz GPR, as well as the RD8000 pipe and cable locator as the equipment.
The New Brooklyn Heights Public Library needed to have structural changes made for the new design. The construction called for an over-build/remodel, as well as preservation of the existing electrical and other wiring systems.
American Geophysics

North Jersey
American Geophysics

New York City
American Geophysics

Philadelphia/South Jersey