Concrete Scanning Professionals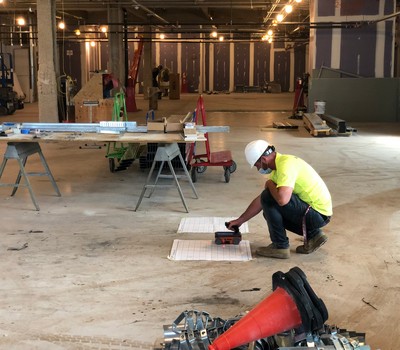 With over two decades of industry expertise as a leading geophysical company, American Geophysics Inc. is here for you. One of the essential services we offer our customers is concrete scanning.
The primary reason you need our experts to help with concrete scanning is safety. Your project shouldn't move forward until you have an accurate scan of what you could be dealing with under the concrete.
However, you can also feel good that this service will save you money and time, so it's worth the initial investment. Trust the company that has the customers' best interest in mind, especially when it comes to something as critical as working underground, especially under concrete.
Precision Matters When it Comes to Concrete Scanning
Scanning concrete using GPR has become an industry-standard practice before cutting or coring concrete. Experience with concrete scanning and GPR interpretation is the most important aspect of a successful concrete scan.
This preferred method provides an accurate, safe, and cost-effective means of locating:
Rebar
Post Tension Cables
Electrical conduit
Utilities
Void Spaces
Steel Beams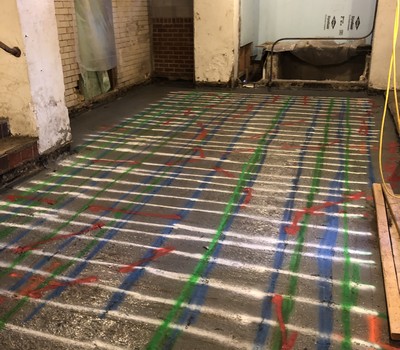 Engineers and insurance requirements have overwhelmingly embraced the use of GPR for concrete scanning. Our experienced personnel and industry-leading equipment will provide you with accurate results each time.
Contact our experts today for concrete scanning, and find out why we're the preferred geophysical company in NJ, PA, NY, and CT.
Latest Concrete Scanning Projects
This project was performed at an industrial site in New York City, NY. The equipment used here is the "SCREENING EAGLE PROCEQ GP 8000." The technicians are on-site to detect any "void spaces" in the above-ground holding tank for integrity purposes.
We performed this service at BRYN MAWR HOSPITAL in Bryn Mawr, PA. The technician on-site is used the GSSI concrete GPR scanner to locate rebar, reinforcements, structural components as well as any potential conduits, or wiring systems in the concrete structural slab.
This project was performed by our technicians at the WORLD TRADE CENTER in New York City, NY. In certain active/finished sections of the building, AG Inc. had to use tape and labeling systems to mark out all of the findings. We adapt to any situation to meet our clients' needs.
This project was done in Philadelphia for the Children's Hospital of Philadelphia (CHOP), Pennsylvania. 3D grid scans were performed, collected and recorded around various parts of the hospitals (both finished/in-use and under construction.)
Dan (the company's owner), did a site audit day (or a pop-in!) to check everyone's work across Philadelphia. Not sure how to best phrase this but maybe this can be labeled (OVERSIGHT) or (OVERSITE.) Get it?
This project was performed in Brooklyn, NY for a concrete testing firm. The project was to investigate and inspect new construction for proofing: rebar, and grouted cells of (CMUs)- concrete masonry units.
This project was performed at the American Dream (Mall) in East Rutherford, NJ. The technicians are doing a concrete investigation scanning for rebar, and other structural reinforcements in concrete slabs, columns, and beams.
This is a concrete investigation we performed at the Wells Fargo Center in Philadelphia, PA. We used the GSSI mini XT 2.7GHz GPR, as well as the RD8000 pipe and cable locator as the equipment.
The New Brooklyn Heights Public Library needed to have structural changes made for the new design. The construction called for an over-build/remodel, as well as preservation of the existing electrical and other wiring systems.
American Geophysics

North Jersey
American Geophysics

New York City
American Geophysics

Philadelphia/South Jersey