Thermal Infrared Imaging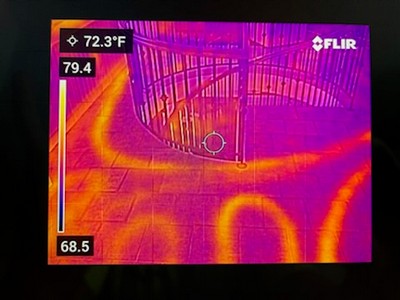 Thermal imaging is simply the process of converting infrared (IR) radiation (heat) into visible images that depict the spatial distribution of temperature differences in a scene viewed by a thermal camera. (FLIR CAMERA)
A thermal imaging camera is a reliable, non-contact instrument which is able to scan and visualize the temperature distribution of entire surfaces quickly and accurately. FLIR and thermography programs have contributed to substantial cost savings around the world.
Why use thermal imaging? Thermal imaging cameras for building applications are powerful and non-invasive tools for monitoring and diagnosing the condition of buildings, locating radiant heating coils in different types of surfaces, leak detection, heating systems, water systems, amongst other endless applications. With a thermal imaging camera, you can identify problems early, allowing them to be documented and corrected before becoming more serious and more costly to repair.
Whether you use thermal imaging for an inspection of large buildings or for a domestic residence, FLIR and AGInc. will provide the data and analysis you need. Thermal imaging cameras and Infrared (IR) thermometers are reliable and very useful for single-spot temperature readings, but when scanning large areas, it's easy to miss critical parts like air leakages, areas with insufficient insulation or water intrusion. A FLIR thermal imaging camera can scan entire buildings, heating and HVAC installations. Find problems faster and easier with extreme accuracy. It is easy to miss a critical building problem if you are only using a spot IR thermometer. A FLIR thermal imaging camera will give you a total view of the situation and instant diagnostic insights. It not only locates a construction problem in a building but can show the full extent of problems.
(The project's goal was to expand the width of the staircase.)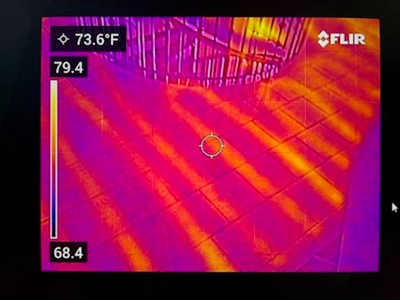 Latest Thermal Infrared Imaging Projects
Our client at a private residence in the Rittenhouse Section of Center City, Philadelphia needed to have "radiant heating coils" of non-conductive materials oriented as part of an overbuild. The project's goal was to expand the width of the staircase.
Contact Us
If you are looking for a professional geophysical subcontractor for Thermal Infrared Imaging, contact us today at: 833-722-6477 or request a free quote online.
American Geophysics

North Jersey
American Geophysics

New York City
American Geophysics

Philadelphia/South Jersey