What can Electromagnetic (EM) induction do for you?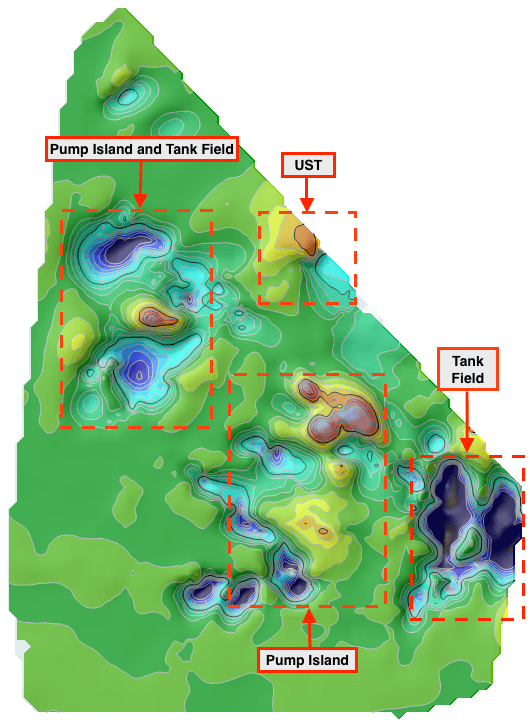 Incorporating EM into Geophysical Surveys, an efficient and cost effective method of data collection.
In today's modern environmental industry acquiring as much data about the subsurface of a site is critical to defining the best approach to remediation. Clients are often stressed to receive timely and confident answers as to the condition of their site and collecting the best data can help put them at ease and visualize the best approach to dealing with these conditions. Electromagnetic induction profiling (EM) technology has advanced significantly over recent years and is the perfect geophysical method to pair with ground penetrating radar (GPR) to acquire the most comprehensive subsurface data.
How electromagnetic induction works:
Electromagnetic induction (EM), is based on the measurement of the change in mutual impedance between a pair of coils on or above the earth's surface. The coils are electrically connected and separated by a fixed distance.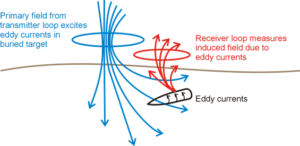 The importance of good data and limitations of GPR:
Geophysical surveys have become a standard means of gathering subsurface profiles in both site assessment and site investigation phases. Ground Penetrating Radar (GPR) is the most common method used for mapping and defining metallic anomalies and lithological data. While this method can be effective, there are many site-specific performance limitations such as: topography, high-conductivity materials, and signal scattering due to rocky and industrial fill heterogeneous conditions.
The benefits of adding EM to your geophysical survey:
1. Efficient
When incorporating EM into a geophysical survey it is often possible to overcome the limitations of GPR. When used as the first method of survey, EM provides a large overall picture of the site subsurface. This is especially beneficial when dealing with larger sites with varied topography and multiple limiting conditions. EM data can be collected much faster and more efficiently than GPR, spanning multiple frequencies while logging GPS coordinates to produce an accurate subsurface map. This can provide invaluable insight to focus efforts and pick out specific areas of concern (AOCs) which can be further investigated using GPR.
2. Cost Effective ($)
When approaching any environmental project cost is always going to be a key factor. Determining the most cost effective means of investigation and remediation is critical to client relations and results. EM can provide invaluable insight into how best to approach a site investigation. Having an overall map of the subsurface and potential AOCs allows efforts and resources to be focused rather than spread over areas where valuable drilling and manpower would be otherwise wasted. Limiting soil borings and samples can save thousands of dollars. If done effectively a proper geophysical survey can help cut down the overall time span on how quickly remediation can begin and provide the client with a clearer plan of action.
Our Equipment:
We employ a state of the art GSSI EMP-400 Electromagnetic induction unit when performing EM surveys. For more information on this unit and combining geophysical methods for effective surveys check out this article by Brian Jones from GSSI : http://trenchlessonline.com/using-gpr-em-technologies-environmental-assessment-surveys/
American Geophysics provides quality comprehensive Geophysical Surveys using EM.
We can include and EM survey with any geophysical survey request. Many clients are opting for this added service to get the most out of their survey.
American Geophysics

North Jersey
American Geophysics

New York City
American Geophysics

Philadelphia/South Jersey