Thinking outside the Geophysical Box
Employing electromagnetic induction profiling (EMI) when traditional methods are not an option.
(When other companies would have said no we said yes!)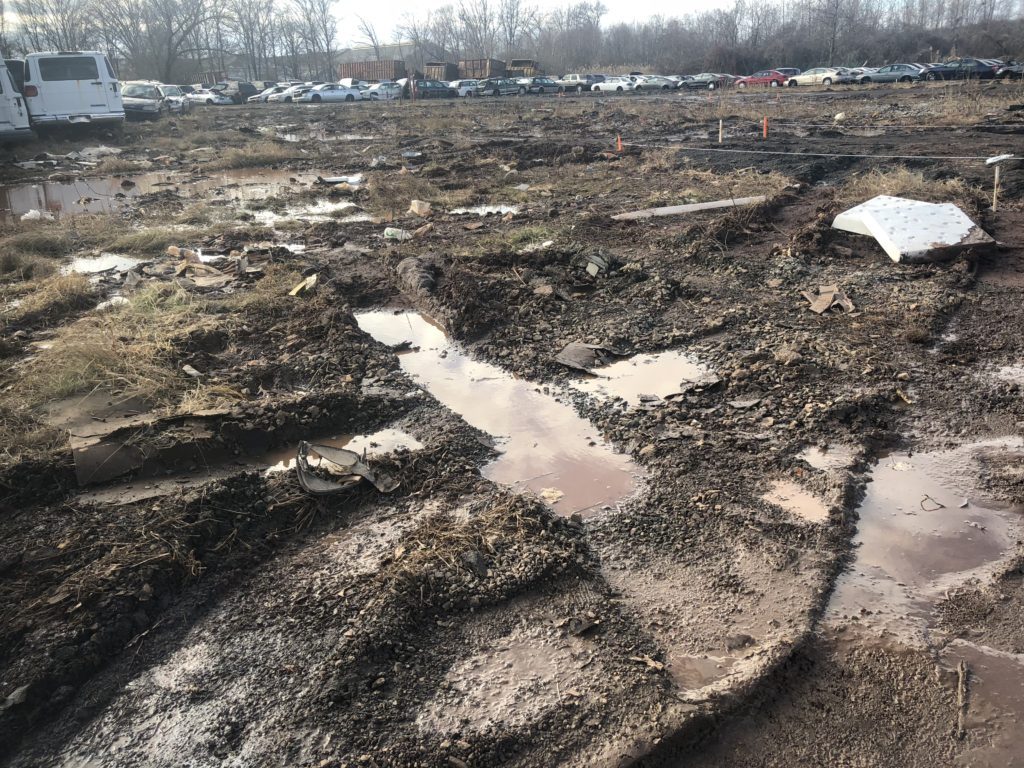 When performing geophysical surveys for the environmental industry more often than not conditions can be less than ideal. The above image is a glimpse of site conditions on a recent project American Geophysics was tasked with. Without any foreknowledge of conditions when arriving onsite we were faced with an issue: How do we perform a geophysical survey here? The client needed a geophysical survey of almost 5 acres in the above condition, to discern larger metallic subsurface anomalies in a subsurface littered with various scrap metal. Using a metal detector would be useless on a site littered with metal and a GPR is clearly inhibited by the terrain. Instead of telling the client that a survey would just not be possible we consulted and provided them with a solution that would fit not only their time frame but also budget.
With the portability of our EM unit, we were able to remobilize on the same day. No longer limited by terrain we were able to collect data over all areas of concern. Post processing the data allowed us to provide an accurate figure of a particular AOC within the first day, giving the client the ability to test pit the following day while we finished scanning the remainder of the site. This method combined with onsite coordination and client communication provided accurate, detailed and useful results.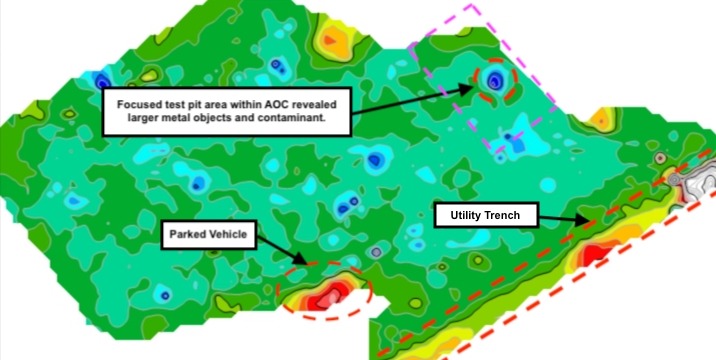 Geophysical results that focus efforts, save time and cut costs.
As seen in the image above, the plotted data from the EM scan provided a broad overview of the subsurface. The ability to collect the data uninhibited by terrain, and provide the client with an overall subsurface map, gave them the flexibility to test pit quickly and accurately. Findings were consistent with historical data and helped confirm that drilling efforts within AOCs would not be wasted. Even in favorable conditions the size, scope, and subsurface content would have taken twice as long using GPR. In the end, the difficult site conditions proved to be another effective test of our EM equipment and saved the client time and money while providing the results they needed.
When American Geophysics takes on any project, we strive to make sure we communicate with the client and understand their overall plan and objective. Combining our experience and the latest geophysical equipment at our disposal we can come up with a solution to fit your needs even in challenging situations.
To learn more about how we can help tackle and improve the results of your projects using our geophysical services call or contact us today:
American Geophysics

North Jersey
American Geophysics

New York City
American Geophysics

Philadelphia/South Jersey