Concrete Investigation at Wells Fargo Center in Philadelphia, PA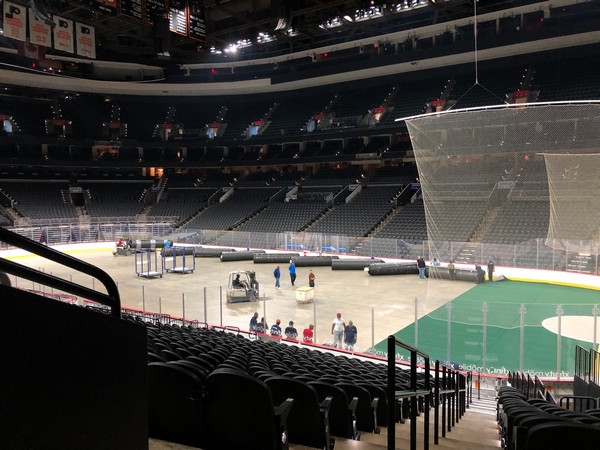 Project Description:
This is a concrete investigation we performed at the Wells Fargo Center in Philadelphia, PA. We used the GSSI mini XT 2.7GHz GPR, as well as the RD8000 pipe and cable locator as the equipment. The scope of work was to identify any potential electrical conduits and/or structural engineering components in order to assist in the renovation of the entire complex. This is an ongoing project that has been performed in waves to setbacks of Covid and still continuing. The technician is scanning for rebar, and other structural reinforcements in concrete slabs, columns, and beams using the GSSI Mini XT 2.7 Mini GHz
concrete scanner
(handheld GPR). In addition, the technician is identifying and locating conduits and other electrical systems housed in the concrete by using the RD8000 pipe and cable locator. **The second image is a 3D grid scan collected with the mini XT. The third image is a sample of the concrete and GPR signal penetration depth. The first and fourth images showcase the sections of the arena we are investigating.**
Client Wells Fargo Center
Services/Products Concrete Investigation, GSSI mini XT 2.7GHz GPR, as well as the RD8000 pipe and cable locator
Concrete Investigation
Concrete Scanning
Concrete Scan
Philadelphia Concrete Investigation at Wells Fargo Center Project Gallery
Recent Articles on Concrete Scanning
What Does Concrete Scanning Do For You?
The first thing to do when planning for concrete scanning is to start screening geophysical professionals so you can be sure you're hiring the right one. Of course, having a better comprehension of what concrete scanning is helps as well. This type of scan is conducted using Ground Penetrating Radar (GPR). It's necessary to use […]
Why You Need Video Pipe Inspection Service
It's no surprise that the pipes and plumbing in your building will require maintenance and repairs. This is true whether you own residential, commercial, or industrial property. However, what you may not be aware of is how useful Video Pipe Inspection service can be for maintaining your plumbing, especially your sewer lines. Using the expertise […]
Contact Us
If you are looking for a Concrete Investigation service by a professional geophysical subcontractor in the Philadelphia, PA area, contact us today at: 833-SCAN-GPR (833-722-6477) or request a free quote online.
American Geophysics

North Jersey
American Geophysics

New York City
American Geophysics

Philadelphia/South Jersey