Finding A Hidden Underground Storage Tank in Jersey City, NJ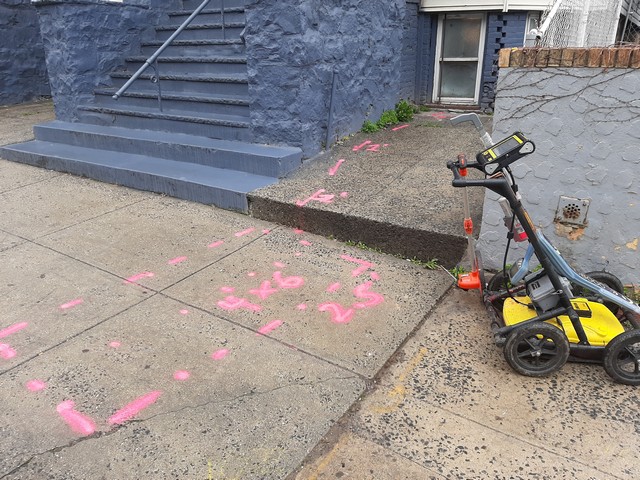 Project Description:
An abandoned in place, decommissioned, or "orphaned" underground storage tank was detected in the walkway to the home. The previous owners tried to "hide the vent line" by painting the vent line the same color as the wall, as well as, using similar piping for the railing of the staircase that matches the vent pipe. An underground storage tank was detected, with the dimensions, depth, and product lines marked out in pink. Although previous records indicated that the tank was "probably removed", this was not the case. This happens too frequently in the real estate world. Using our multi-layers of methodology, we were able to determine the true presence of an underground storage tank or UST, so that the purchaser/buyer knew the facts of what they were inheriting with their purchase. The photos attached are reflective of the data collected and the orientation, dimensions, and depths of the tank and its associated piping (all marked out in pink).
Client Hidden Underground Storage Tank in Jersey City, NJ
Products: RD1100 250MHz ground penetrating radar (GPR), Fisher TW-6 Electromagnetic Magnetometer, CST/Berger MT-102 MagnaTrak, Radiodetection RD8000 PDL pipe and cable locator
Underground Storage Tank
Electromagnetic Profiling
Jersey City Hidden Underground Storage Tank Project Gallery
Recent Articles on Geophysical Services – Ground Penetrating Radar (GPR)
Top Benefits Of Ground Penetrating Radar (Gpr)
Making plans to hire a geophysical specialist isn't one of the most common things you'll do as a property owner. So, when it's something you find yourself required to use, it's due to a particular type of essential project. Ground-penetrating radar works by emitting a small pulse of energy out and recording how long it […]
New Toll Free Number: (833) Scangpr
American Geophysics Inc. now has a new Toll Free number: (833) SCANGPR (722-6477). We are here for all of your geophysical needs: GPR, Concrete Scanning, Geophysical Survey, UST locates, EM profiling, and Private utility locates. We look forward to serving you in 2020 and beyond. If you are looking for a geophysical subcontractor, contact us […]
Contact Us
If you are looking for a professional Underground Storage Tank / Ground Penetrating Radar (GPR) service in the Jersey City, NJ area, contact us today at:
833-722-6477 or request a free quote online.
American Geophysics

North Jersey
American Geophysics

New York City
American Geophysics

Philadelphia/South Jersey