Top Performance of a Geophysical Investigation of a State Laboratory and Medical Center in Freehold, NJ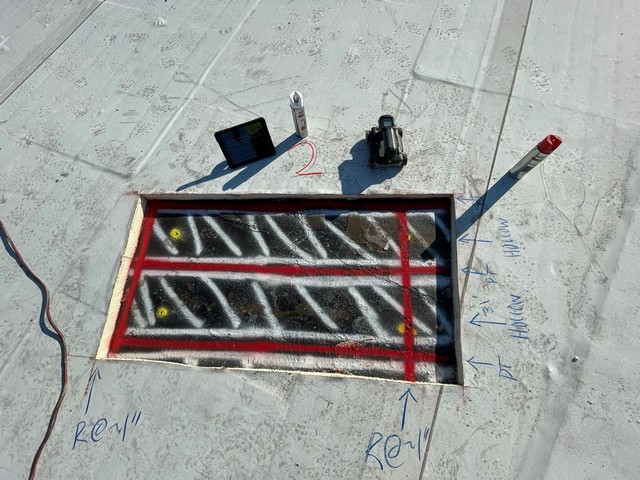 Project Description:
The client asked us to perform a geophysical concrete investigation of the laboratory roof prior to adding HVAC systems and associated piping and components. For all these proposed coring and anchoring locations on the roof, the client wanted/needed the "post-tension cables", reinforcements, electrical conduits as well as the hollows of the (precast slab), all identified and marked out prior to performing the coring and anchoring. PT Cables and hollows were detected and identified spanning the precast concrete structural roof. All detected cables, reinforcements, and potential electrical conduits were marked in red. The detected hollows/voids of the precast roof were marked with white paint.)
Client State Laboratory and Medical Center in Freehold, NJ
Products: Proceq GP8800 GPR concrete scanner, Radiodetection RD8000 PDL pipe and cable locator
Geophysical Investigation
Ground Penetrating Radar (GPR)
Freehold Geophysical Investigation of State Laboratory and Medical Center Project Gallery
Recent Articles on Concrete Scanning and Ground Penetrating Radar (GPR)
Top Benefits Of Ground Penetrating Radar (Gpr)
Making plans to hire a geophysical specialist isn't one of the most common things you'll do as a property owner. So, when it's something you find yourself required to use, it's due to a particular type of essential project. Ground-penetrating radar works by emitting a small pulse of energy out and recording how long it […]
New Toll Free Number: (833) Scangpr
American Geophysics Inc. now has a new Toll Free number: (833) SCANGPR (722-6477). We are here for all of your geophysical needs: GPR, Concrete Scanning, Geophysical Survey, UST locates, EM profiling, and Private utility locates. We look forward to serving you in 2020 and beyond. If you are looking for a geophysical subcontractor, contact us […]
Contact Us
If you are looking for a professional Concrete Scanning service in the Freehold, NJ area, contact us today at:
833-722-6477 or request a free quote online.
American Geophysics

North Jersey
American Geophysics

New York City
American Geophysics

Philadelphia/South Jersey