Parsippany's Premier Company for Local Ground Penetrating Radar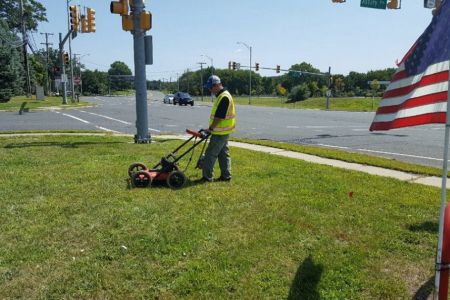 American Geophysics Inc. is the name to trust in the geophysical services industry, including locally in Parsippany. We use advanced technology and our training and skills to get superior results for geophysical subsurface investigations.
Ground Penetrating Radar (blue) is essential to use for specific jobs and professional situations. We've seen rapid growth and expansion within the industry, and that's created a higher demand for use.
Our team has been fortunate enough to build long-term working relationships with our clients in Parsippany and beyond. Our primary professional focus is to be able to provide our customers with solutions for their projects – no matter the size and scope.
Parsippany Knows to Trust Us for Geophysical Services
At American Geophysics Inc., we rely on our 20-plus years of industry expertise, using technology and communication skills to exceed the needs of our clients. We're fully insured and OSHA Certified, making us a top choice in Parsippany and throughout the Northeast.
We put our equipment and skills to work to provide services for our clients like:
Concrete Scanning
Borehole Logging
Utility Locating
Video Pipe Inspection
Residential Tank Sweep
It all begins with the free quote we offer our clients. This gives us the opportunity to meet with you and discuss your upcoming project.
From concrete scanning to video pipe inspections – and everything in between, we look forward to working with you. Call now, and let's make your project the focus and get you the date you need to move forward with it.
Experts Offering Residential Tank Sweeps in Parsippany
An undiscovered storage tank can be a leaking time bomb, which is why a residential tank sweep is so critical. Even more alarming, once discovered, over half the tanks removed have holes that require environmental cleanup.
Our services will help you determine if there is an existing tank so you can plan accordingly. It's crucial when buying real estate to be informed about the property's condition, including knowing about possible hidden tanks.
Our team has been specializing in residential tank sweeps and removals for over 20 years. We employ a multi-step process to perform a tank sweep and use the latest ground-penetrating radar (GPR) technology.
We offer a flat, competitive, and affordable price for our services, including residential tank sweeps. For assistance in Parsippany that requires ground-penetrating radar for residential tank sweeps or similar tasks, contact our company immediately.
American Geophysics

North Jersey
American Geophysics

New York City
American Geophysics

Philadelphia/South Jersey