New York's Leader In Concrete Services
Your Geophysical Specialists in New York City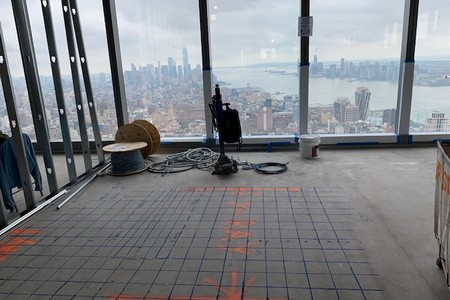 With over two decades of industry expertise as a leading geophysical company, American Geophysics Inc. is here for you. One of the essential services we offer our customers is concrete scanning.
The primary reason you need our experts to help with concrete scanning is safety. Your project shouldn't move forward until you have an accurate scan of what you could be dealing with under the concrete.
However, you can also feel good that this service will save you money and time, so it's worth the initial investment. Trust the company that has the customers' best interest in mind, especially when it comes to something as critical as working underground, especially under concrete.
Precision Matters When it Comes to Concrete Scanning
Scanning concrete using GPR has become an industry-standard practice before cutting or coring concrete. Experience with concrete scanning and GPR interpretation is the most important aspect of a successful concrete scan.
This preferred method provides an accurate, safe, and cost-effective means of locating:
Rebar
Post Tension Cables
Electrical conduit
Utilities
Void Spaces
Steel Beams
Engineers and insurance requirements have overwhelmingly embraced the use of GPR for concrete scanning. Our experienced personnel and industry-leading equipment will provide you with accurate results each time.
Contact our experts today for concrete scanning, and find out why we're the preferred geophysical company in NJ, PA, NY, and CT.
American Geophysics Inc. is your New York City contact for geophysical subcontractor services. We have over two decades of experience in this industry and are proud of the reputation we've earned.
Our team are GPR Specialists, OSHA certified, and dedicated to assisting you with the services you need. We have a growing list of clients that are satisfied with the work we do, including:
Merck Pharmaceuticals
DOW Chemicals
Skanska
Langan Environmental
Buckeye Energy Services
and more
For the best geophysical services in New York City and the surrounding area, contact American Geophysics today. It's as easy as a phone call to get your free quote.
How Ground Penetrating Radar (GPR) Can Get Your Project Moving
Nothing gets subsurface investigation done like Ground Penetrating Radar (GPR). Our advanced technology at American Geophysics has helped many New York City projects succeed and improve their processes. Some benefits of GPR are:
it's safe
it fits your budget
it's effective
produces better quality scans
quick results
GPR is useful in many project situations, including ground, concrete, and others. X-ray scanners are also used, but their results aren't as accurate as the ones you'd get when using GPR. Before you break ground on your newest project, stop to make sure you know what is beneath your work site. Don't take any unnecessary risks– give us a call today to see the superior services we have to offer.
What We Provide
We are industry leaders because we offer both quantity and quality when it comes to our work. We provide many services for you to choose from, and all of them are performed with professionalism and expertise.
We can take care of any of the following jobs for you:
Ground Penetrating Radar (GPR)
electromagnetic profiling
residential tank sweep
video pipe inspection
and much more!
We deliver quality results and assessments for your next project. Without the information we can offer you, your project could be a disaster. Contact American Geophysics now to schedule services from our team of New York City geophysical experts.
Latest Concrete Scanning Projects
The engineering and construction design team needed to core two locations for data/telecommunication and electrical feeds in the facade/false rooms that protect the elevator shafts. Even in the tight amount of available surface space, the client needed the field technician to determine the thickness of the concrete slab to core through, any structural beams or components detected; as well as mark all detected reinforcements and electrical/IT/data conduits residing in the structural concrete slab.
The client wanted to have his own IT and communications line fed to their private penthouse in New York City. In order to do so, a separate "riser" of lines needed to be fed from the basement, up approximately 50 floors.
This project was performed in Manhattan, NYC as part of an over-build and investigation of current load capacity of a client-specified concrete deck. We had to perform the following tasks: sizing rebar, measuring rebar thickness, and utility or conduit locating.
This project was performed at an industrial site in New York City, NY. The equipment used here is the "SCREENING EAGLE PROCEQ GP 8000." The technicians are on-site to detect any "void spaces" in the above-ground holding tank for integrity purposes.
This project was performed by our technicians at the WORLD TRADE CENTER in New York City, NY. In certain active/finished sections of the building, AG Inc. had to use tape and labeling systems to mark out all of the findings. We adapt to any situation to meet our clients' needs.
American Geophysics

North Jersey
American Geophysics

New York City
American Geophysics

Philadelphia/South Jersey