Philadelphia's Leader in Ground Penetrating Radar Services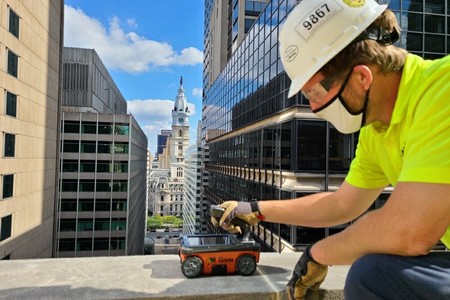 A thorough onsite investigation is essential to the success of any geophysical service, but that's only half the job. At American Geophysics Inc., we understand the importance of reporting our findings clearly and concisely to take care of our clients in areas like Philadelphia.
Our reports provide clients with a clear and comprehensive review of our findings, offering a professional summary of the entire site, scope, and process. We supply several figures, including images, survey maps, and post-processed data when applicable, to make sure the client and staff can have a full understanding of what was found.
We take the time to make sure our reports contain the appropriate information allowing our clients to make informed decisions moving forward with their project. If you require geophysical services in Philadelphia, South Jersey, or surrounding areas, now is the time to schedule your service with us.
Ground Penetrating Radar (GPR) Moving Your Project Forward
When it comes to subsurface investigation, nothing surpasses Ground Penetrating Radar (GPR). Countless Philadelphia projects would never have come to fruition without the use of our advanced technology.
Some of the benefits of GPR are:
Safety
Inexpensive
Efficient
Better Quality Scans
Fast Results
GPR comes into play for a number of situations, including ground, concrete, and more. The commonly used alternative is an X-ray scanner, yet the results aren't nearly as clear, concise, or accurate.
Before you begin to dig and move forward with your project, it's time to get serious about what's under the site you intend to work on. Stop taking unnecessary risks and contact us to provide you with superior service.
What We Offer Our Clients
At American Geophysics Inc., we work with commercial, industrial, and residential customers. We can take care of any size project and offer a free quote to help earn your trust.
We're OSHA Certified, with over two decades worth of industry experience. Plus, we offer a variety of integral services such as:
Ground Penetrating Radar
Concrete Scanning
Utility Locating
Electromagnetic Profiling
Residential Tank Sweep
Borehole Logging
Video Pipe Inspection
All the good planning in the world won't make a difference for your project if you fail to get the data you need, and the data that we can provide for you. The sooner you get in touch with us, the sooner we can get you the feedback your project requires.
Call us now and get the best experience, technology, and communication from a reputable geophysical company in Philadelphia.
Latest Projects in Philadelphia, PA
The engineering and construction design team needed to overbuild on the concrete structures existing on-site. The team needed to know if there was any detected delamination; or any parallel or subparallel flaws from the surface such as the slabs, walls, columns, mat-foundation and beams.
The Philadelphia Water Department asked American Geophysics to assist with; locating active and inactive utilities, buried utility access points, detecting heating-oil USTs (underground storage tanks), as well as investigating approximately 25 proposed boring locations for contamination testing.
Our client at a private residence in the Rittenhouse Section of Center City, Philadelphia needed to have "radiant heating coils" of non-conductive materials oriented as part of an overbuild. The project's goal was to expand the width of the staircase.
This project was done in Philadelphia for the Children's Hospital of Philadelphia (CHOP), Pennsylvania. 3D grid scans were performed, collected and recorded around various parts of the hospitals (both finished/in-use and under construction.)
Dan (the company's owner), did a site audit day (or a pop-in!) to check everyone's work across Philadelphia. Not sure how to best phrase this but maybe this can be labeled (OVERSIGHT) or (OVERSITE.) Get it?
This is a concrete investigation we performed at the Wells Fargo Center in Philadelphia, PA. We used the GSSI mini XT 2.7GHz GPR, as well as the RD8000 pipe and cable locator as the equipment.
American Geophysics

North Jersey
American Geophysics

New York City
American Geophysics

Philadelphia/South Jersey