The Geophysical Company in New York City That You Can Trust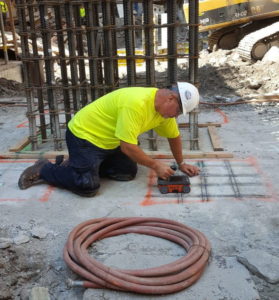 American Geophysics Inc. is a geophysical survey and investigation services firm that provides Environmental & Engineering Geophysics (EEG) services to the environmental consulting, construction, and engineering industries. We're honored to be a top choice for geophysical services for our customers in areas like New York City and beyond.
We can accommodate any size project and work within your budgeting needs. The time and quality of our work are unprecedented, one of the many reasons we're the preferred local experts.
We're OSHA Certified GPR Specialists and have an impressive history that spans over 20 years in the industry. If you have a tentative project in the New York City area that requires geophysical work first, trust us to take care of it for you.
Add Your Name to Our List of Satisfied Clients
Our customers in areas like New York City already know firsthand that we're experts for services like concrete scanning. Now, we want you to join our long list of satisfied clients that we've accumulated over the years.
Some of the names you're already familiar with such as:
Exxon Mobil
HESS
Merck Pharmaceuticals
Fashion Institute of Design
Rutgers
Princeton
University of Penn Hospital
Turner Construction
And that's not all. We work hard to deliver high-quality results because our customers depend on making essential decisions based on our reports. There's no reason to accept inferior service when so much is riding on the accuracy of the work that's done for you.
Top Level Concrete Scanning From Our Experts
The concrete scanning we offer relies on Ground Penetrating Radar (GPR) for precision and accuracy. It's considered the industry standard when preparing for cutting or coring concrete.
You need professionals who are familiar with using state-of-the-art equipment and technology to help locate:
Rebar
Post Tension Cables
Electrical Conduit
Utilities
Void Spaces
Steel Beams
What you get from our team are results that promise accuracy, safety, and cost-effectiveness for the future of your project. Neglecting to get concrete scanning from a reputable company is one way to end up taking unnecessary risks with your project.
This could lead to property damage or personal injury, liabilities that will be yours to contend with. We'll provide you with the service that you need to help make your project a success.
For the best service from a leading New York City geophysical team, give our experts a call today.
American Geophysics

North Jersey
American Geophysics

Philadelphia/South Jersey
American Geophysics

New York City